Our History Began in 1941 with $1,500 and a Modest Dream
The original version of JESCO Construction was born in 1941 when Joe Staub used a capital investment of $1,500 to create J.E. Staub & Company. Note the initials? J-E-S. That's where JESCO comes from. We can trace our present day passion for quality and safety back to the same man. Joe Staub didn't care about being the biggest construction company around. He wanted to build the best.
Joe Staub focused his company's efforts on industrial construction and continued to impress clients with quality work until, nearly twenty years after he opened the doors, the firm was awarded its first major project for Pennsylvania Tire and Rubber Company in Tupelo, Mississippi. That project paved the way for J.E. Staub & Company to rapidly grow into one of the largest industrial contractors in the state of Mississippi.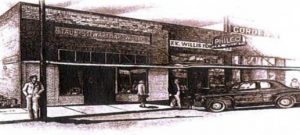 In 1973, J. E. Staub & Company changed its name to JESCO, Inc. Today, nearly half a century after that name change, JESCO is one of the leading construction companies in the South – and one of the premier builders of manufacturing facilities in the United States. While similar construction companies normally rely on subcontractors, JESCO has evolved its business to include unmatched levels of self-performance – the capacity to perform virtually any task in the construction process in-house with JESCO employees. That unique capability means JESCO can focus on quality, while making sure our mega-projects are delivered on time and on-budget. For our clients, it makes work less stressful because there's much less to worry about.
From a modest office in Mississippi, JESCO Construction now maintains locations in Fulton and Tupelo, Mississippi, Mobile and Montgomery, Alabama, and Memphis, Tennessee. Today, JESCO has $4 billion in bonding capacity to handle the biggest projects in the industry. Since 1999, JESCO Construction has been a wholly-owned subsidiary of The Yates Companies, a perennial Top 25 Contractor in Engineering News Record.